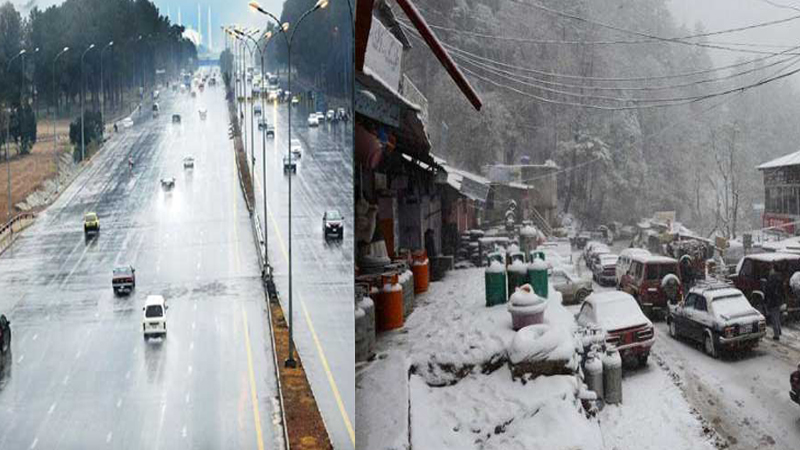 Canada Global (Web News) A new round of rain and snowfall has been predicted by the meteorological department for various sections of the nation.
The Met Office predicts that rain and snow will fall in the upper parts of the country, increasing the severity of the cold. The N50 and N25 motorways that traverse through the northern districts of Balochistan are heavily snow-covered, and several connecting roads have been closed to traffic.
A significant number of tourists have arrived at Mall Road as Murree continues to experience intermittent snowfall. Eight inches of snow have covered everything, and the temperature has plunged to minus two degrees. According to the Met Office, snow will fall in spots during the next six hours.
It also predicted rain in several Punjabi cities, which would lower the temperature. In Wazirabad and the adjacent area, it has been occasionally raining while the ground has turned white from hail.
Rain and snow are anticipated to fall on the mountains of Khyber Pakhtunkhwa, according to the meteorological department, while moderate to heavy snowfall is forecast for Naran, Kaghan, Dir, Swat, Kohistan, Mansehra, Abbottabad, and Shangla. Pothohar, Lahore, Gujranwala, Gujrat, Hafizabad, and Mandi Bahauddin are all predicted to see rain, with a tiny probability of thunderstorms developing in Sialkot. Murree, Galiyat, and a few other nearby locations are more likely to have moderate to heavy snowfall.
The weather will stay cold and dry in the majority of Sindh's districts, and Islamabad is also predicted to see rain, high gusts, and thunderstorms along with partly cloudy skies. Snowfall and thundershowers are also predicted in Kashmir and Gilgit-Baltistan.