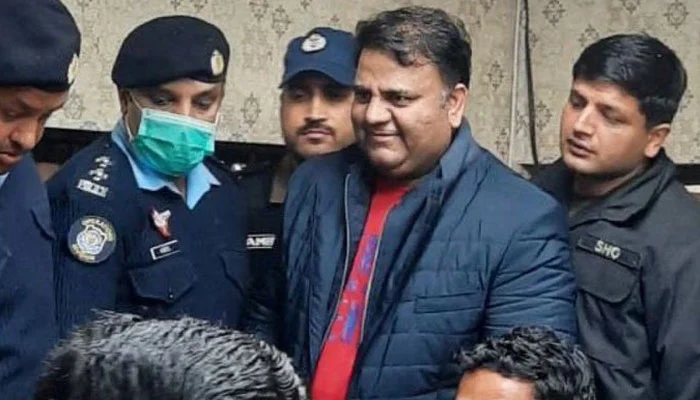 Canada Global (Web News) Fawad Chaudhry, the leader of the Pakistan Tehreek-e-Insaf (PTI), was given a 14-day judicial remand on Friday by a district and sessions court in a case involving "inciting violence against a constitutional institution."
The PTI politician was detained in Lahore on Wednesday on sedition-related charges after allegedly "threaten[ing]" the CEC and other members of the Pakistani Election Commission (ECP).
Fawad was given to the police by an Islamabad court and placed on a two-day physical remand.
On Friday, as the remand period came to a conclusion, he was brought before Judicial Magistrate Waqas Ahmed Raja in front of a heavily guarded audience.
The police asked the judge to extend the former minister's physical detention by seven days during the proceedings.
Reading the first information report (FIR) filed against the PTI politician, the prosecutor—who is also representing the commission in the case—highlighted the language used against the CEC and the interim Punjab chief minister.
He declared that a photogrammetry test would be carried out when they successfully matched the suspect's voice to Fawad's.
He requested a longer physical detention of the PTI leader, saying, "More recoveries are still to be made." The ECP's attorney continued, "The accused has also admitted to the speech before the court at the prior hearing."
Although Fawad is a senior politician, the prosecution stated that "no one is above the law," adding that it was necessary to search his home in order to recover his laptop, moblie and other evidence.
Advocate Babar Awan, who represents the PTI leader, said, "The terrorist Fawad Chaudhary is not. The Election Commission, whose duty it is to organise elections, has turned itself into a government."
How can I ask the Election Commission for justice in the polls if they are the plaintiff in a case against me, he questioned.
According to Fawad, his statements "are not just his own but they are that of the party and communicate the PTI's attitude," which he informed the court about.