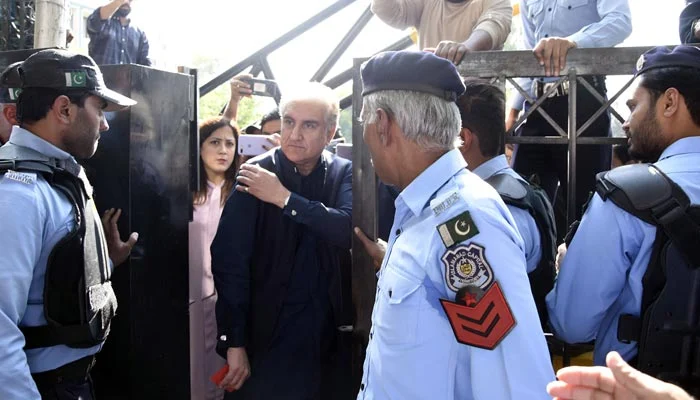 Canada Global (Web News) Shah Mehmood Qureshi, the vice chairman of the Pakistan Tehreek-e-Insaf (PTI), was ordered to be released immediately by the Lahore High Court (LHC) Rawalpindi bench on Tuesday. He had been detained for allegedly taking part in the violent protests on May 9.
Since his initial detention, Qureshi, a former foreign minister, has been detained numerous times.
The bench ruled that Qureshi should no longer be detained in accordance with the Maintenance of Public Order Ordinance (MPO) after hearing a petition challenging his detention.
In addition, Rawalpindi deputy commissioner's MPO instructions were ruled unlawful by the court that handled the matter, Justice Chaudhry Abdul Aziz, who also ordered that Qureshi be released right away without being asked to provide surety bonds.
The government was represented by Assistant Attorney General Abid Aziz Rajouri, while Qureshi's daughter and attorney Taimoor Malik attended on his behalf.
Justice Aziz pressed the law enforcement official about whether Qureshi had made any speeches or organised any protests. While ordering the law officer to submit evidence against the PTI leader, the judge stated that "No political leader can control his words in a political gathering."
The official requested two days at this point for the filing of the evidence. However, after receiving instructions from the government, the court instructed him to update the court within one hour. The hearing was then postponed for one hour by the court.
A report on the allegations against Qureshi was given by the Punjab police in the interim.
Nine cases have been filed against Qureshi across Punjab, the report said. Five of these cases are registered at police stations in Multan, while four of them are registered in Lahore.
The daughter of the PTI leader requested that the report be submitted.
Let the past be the past, Justice Aziz said; it shouldn't happen again because it's not joke.