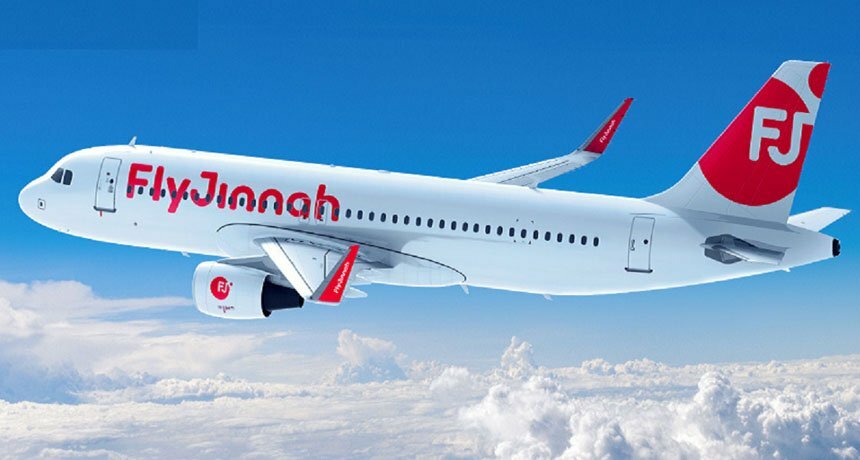 Canada Global Tv: The fourth domestic airline, Pakistan's low-cost carrier Fly Jinnah, has begun operations.
The first aircraft from Karachi to Islamabad departed. The Civil Aviation Authority (CAA) gave a water salute as the plane landed at Islamabad International Airport, and a cake was cut in the Jinnah Terminal lounge as it departed.
Adel Abdullah Ali, the CEO of Air Arabia Group, Zulfiqar Ali Lakhani, the director of Colgate Palmolive Pakistan and Fly Jinnah, Khaqan Murtaza, the director general of CAA, Shahid Khaqan Abbasi, the leader of the Pakistan Muslim League-Nawaz (PML-N), Saleem Mandviwala, the senator of the Pakistan People's Party (PPP), and Fahd Hussain were present there.
Fly Jinnah COO Arman Yahya stated that the airline is approaching the milestone of beginning flight operations thanks to contemporary technologies. He claimed that because it offers passengers a convenient and comfortable method of air travel, the airline will play a significant role in the aviation industry. He also said that there would be no compromising on safety and that the operations will begin with three Airbus A320 aircraft.
Domestic flights will begin operating in the first year, according to the COO, while international flights will begin operating in the second year. According to him, Fly Jinnah will run four flights a week to Quetta in addition to daily flights from Karachi to Islamabad, Lahore, and Peshawar.
The management of the airline is sure that it will give passengers value-added goods and services to provide easy and relaxing means of air travel. They declared their dedication to collaborating with partners to successfully serve the demands of the Pakistani market and to support the tourist industry by offering the greatest travel amenities available worldwide.
The airline was given permission to begin domestic flight operations earlier this month after obtaining an air operator certificate and an air operating licence from the CAA.