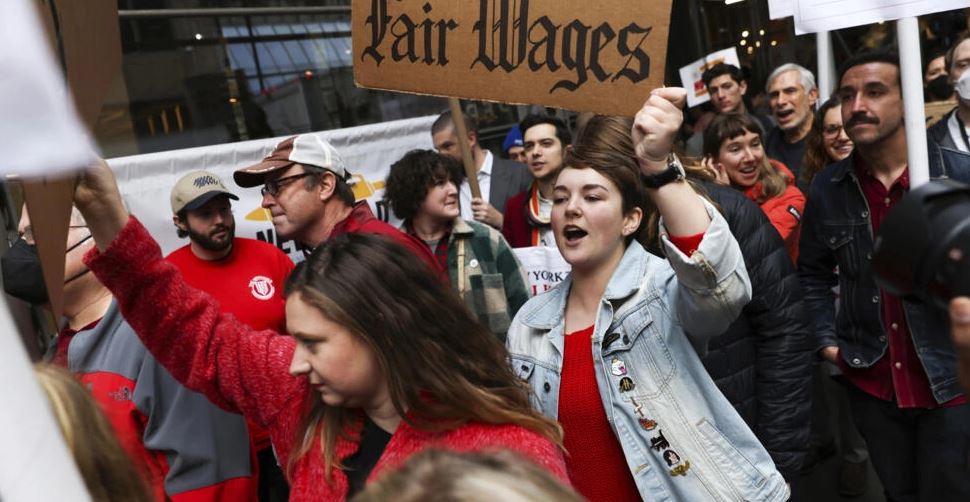 Canada Global Tv More than 1,000 New York Times journalists and other staff walked off the job for 24 hours Thursday, frustrated by contract negotiations that have dragged on for months in the newspaper's biggest labor dispute in more than 40 years.
Hundreds of reporters, editors, photographers and other employees picketed outside the newspaper's offices near Manhattan's Times Square.
With a hollowed out newsroom, the Times was relying on international and non-union staff to deliver content to its more than 9 million worldwide subscribers until the strike ends at 12:01 am Friday.
The NewsGuild of New York went through with its pledge to strike after the two sides failed to reach a deal in marathon negotiations that broke off Wednesday evening.
The sides remain far apart on issues including wages, remote work policies and a performance review system, which the union says is racially biased. The current contract expired in March 2021, and the union has accused the company of dragging its feet on negotiations.
"I'm not angry. I'm just deeply disappointed in our company," said Nicole Hannah Jones, a Pulitzer Prize-winning investigative journalist who spoke at the rally. "You shouldn't have to struggle financially to work at a place like The New York Times no matter. what your position is."
In an email to the newsroom, Executive Editor Joe Kahn said he was disappointed in the decision to strike when negotiations are not at an impasse, the Times reported in its own story on the walkout. Kahn said Thursday's report would be "robust" but that producing it "will be harder than usual."
Stacy Cowley, a finance reporter and chief union negotiator, said the strike nearly depleted many newsroom teams, including her own.
Those who participated included members of the fast-paced live news desk, which covers breaking news for the digital publication.
That feature was operating Thursday, focusing on US basketball star Brittney Griner's release from Russian prison as part of a prisoner exchange. For some news, the Times relied on updating copy pre-written by reporters now on strike.