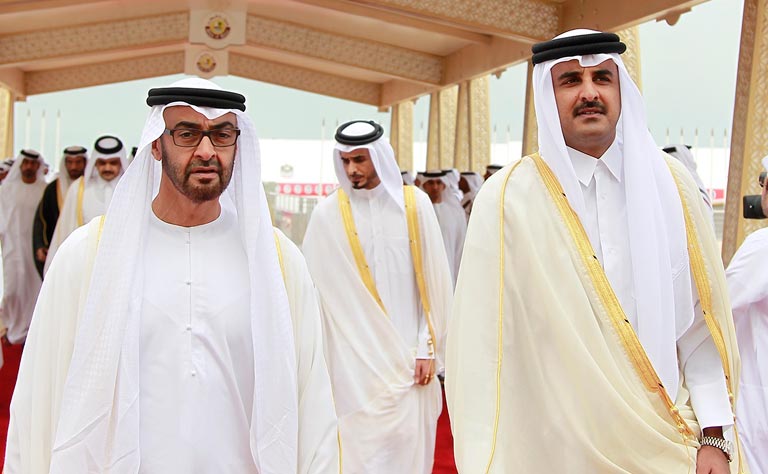 Canada Global (Web News) On Monday, the president of the United Arab Emirates (UAE) came in Qatar for the first time since Saudi Arabia and its Arab allies ended their boycott of Doha almost two years ago.
Emir Sheikh Tamim bin Hamad al-Thani welcomed Sheikh Mohammed bin Zayed al-Nahyan, who ruled the UAE for years before taking office as president in May. The World Cup of soccer is presently being held in Qatar.
The visit, according to Anwar Gargash, the UAE president's diplomatic adviser, is "another step toward boosting Gulf solidarity and cooperative
Early last year, a three and a half year embargo on Qatar was lifted by Saudi Arabia, the UAE, Bahrain, and Egypt. However, relations between Doha and Abu Dhabi have not improved as quickly as those with Riyadh and Cairo, which restored diplomatic connections with Doha.
Egypt's president and Saudi Arabia's crown prince both attended the opening World Cup ceremony in Doha on November 20, while the UAE dispatched the Gulf state's vice president and ruler of Dubai.
Sheikh Tahnoon bin Zayed al-Nahyan, the UAE's national security adviser, visited Doha twice as part of Abu Dhabi's efforts to resolve regional disputes.
Qatar and Bahrain have yet to hold bilateral talks. Abu Dhabi, like Manama, has not named an ambassador to Doha, but has restored trade and travel ties between the UAE and Qatar.
Due to agreements between Doha and neighbouring towns, including tourist hotspot Dubai, for daily shuttle flights, the UAE was able to profit from an influx of World Cup supporters.