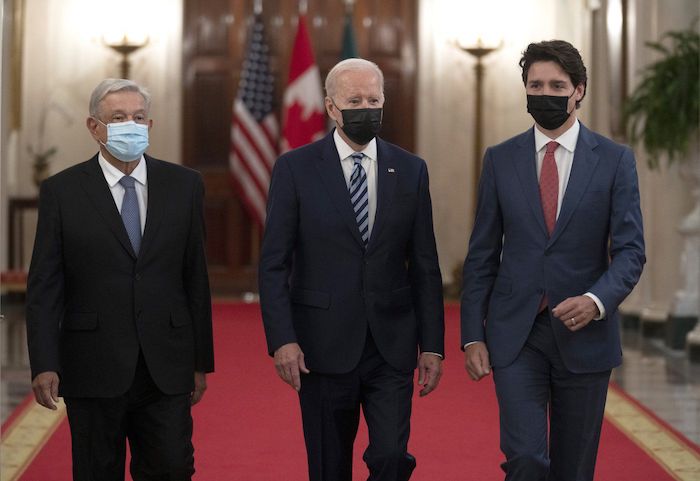 Canada Global (Web News) The North American Leaders' Summit officially kicks off on Tuesday morning with a face-to-face meeting between Prime Minister Justin Trudeau and U.S. President Joe Biden.
Since the Summit of the Americas in June, this is Biden and Trudeau's first official bilateral meeting. They make up two-thirds of the so-called "Three Amigos."
Migration problem at the U.S.-Mexico border will take up most of Biden's agenda, much like it did at the summit of hemispheric leaders last year.
Meeting on Tuesday morning will therefore be Trudeau's greatest opportunity this week to question Biden about matters that are particularly important to Canada.
The two have a lot to discuss, from the contentious Nexus trusted traveller programme to ongoing trade conflicts involving the dairy and auto industries.
Another unanswered question is when Biden will travel to Canada, which is often one of a new president's first international travels.
But for Canada, the summit's main economic objective will be to make sure Biden, a prominent supporter of domestic policies that are protectionist and pro-labor, views America's neighbours as genuine partners and collaborators.
The summit of corporate executives from around the continent, which kicked off the Canadian section of the proceedings on Monday, made it abundantly evident.
We have functioned either as two bilateral ties or as three independent nations much too frequently. That will put us behind in the world of today, said Goldy Hyder, CEO of the Business Council of Canada.
It's time for leaders in all three nations to consider North America as a single, independent entity rather than as three separate nations, according to Hyder.
"The way the world is developing greatly emphasises the power of groups and blocs. However, we in North America haven't really arrived at that decision on our own.
The 25-year-old free-trade pact, NAFTA, was replaced by the U.S.-Mexico-Canada Agreement (USMCA), which took effect in 2020, during the administration of Donald Trump. Trudeau admitted this on Monday how close the continent came to losing NAFTA in 2019.
When thanking the group for their varied contributions to establishing the new agreement, referred to in Canada as CUSMA, Trudeau noted, "Talking among friends," that "we almost lost NAFTA."
The Canadian government and I both put in a lot of effort to try and persuade the American administration at the time of the value of trade with allies, integrated supply chains, trustworthy alliances, and a continental strategy to creating opportunities for our folks.
The USMCA era has not, however, been without its challenges.