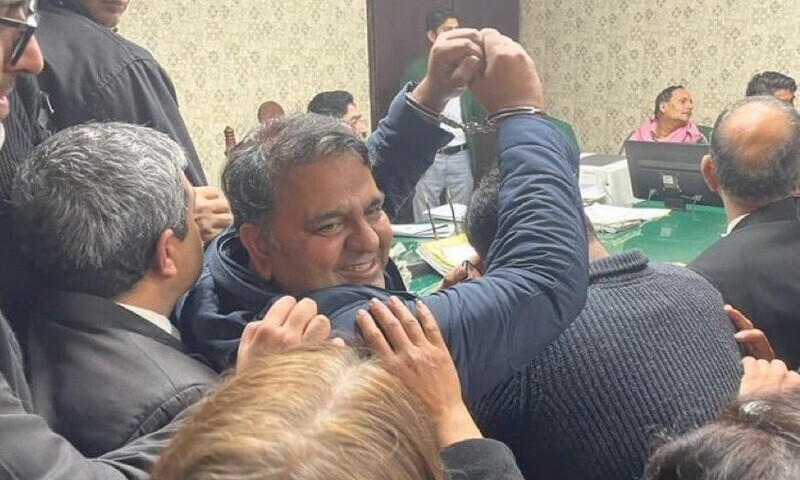 Canada Global (Web News) Lahore court on Wednesday gave police permission to transport PTI leader Fawad Chaudhry to Islamabad hours after he was taken into custody from his home for making offensive remarks about the country's highest election body.
The PTI leader was arrested early on Wednesday morning after being charged under sections 153A, 506, and 124 A of the Pakistan Penal Code in response to a complaint made by the secretary of the Election Commission of Pakistan, Umer Hameed. At 10 a.m., police brought Mr. Chaudhry in handcuffs to the Rana Muddasir court and asked for a one-day transit remand because they wanted to transfer him to Islamabad because the case had been filed at the Kohsar police station.
The PTI leader claimed security had been set up in a certain way as a "terrorist" was being brought before the court, adding that he was not aware of the accusations made against him. In addition, he exhorted citizens to protest in the streets. He said that Nelson Mandela, a former president of South Africa, had also been arrested in a sedition case.
The former minister of information asked the judge Rana Mudassir during the hearing for a copy of the FIR filed against him, and the request was granted. His attorney argued against the transit remand, claiming there was no need for it because the trip from Lahore to Islamabad only took four hours.
He argued that police should transport his client right away to the federal capital so they may appear in court.
Additionally, the PTI leader said that he has petitioned the Lahore High Court (LHC) to end his wrongful arrest. He asked the judge to delay rendering a decision on the transit remand plea until the LHC rendered its ruling.