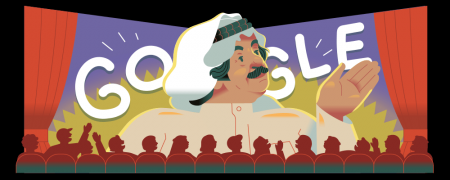 Canada Global (Web News) The late Kuwaiti actor and comedian Abdul Hussein Abdul Reda's birthday, which occurs on December 6, was commemorated by a Google Doodle on Tuesday.
With a career spanning more than 50 years, Abdul Reda is one of the most well-known and significant Gulf and Arab artists as well as one of the region's pioneers of acting.
In 1961, he took part in the first theatrical production of the classical Arabic play "Saqr Quraish."
Abdul Reda produced a number of noteworthy plays and television programmes, where he rose to fame with shows including The Slippery Path and Destinies.
Bye Bye London and Bani Samet, two well-known Khaleej productions, earned him the moniker "Gulf's laughter and joy" from Dubai Ruler and Prime Minister Sheikh Mohammed bin Rashid.
Sheikh Mohammed paid tribute to the late Kuwaiti actor on Twitter after learning of his departure by writing: "We bid farewell to the Gulf's laughter and pleasure. Each and every Khaleeji inhabitant enjoyed spending time with you.
Abdul Reda, who had experienced a number of illnesses throughout his life, passed away in London and was buried in Sulaibikhiyat Al Jaafariah on August 16, 2017.