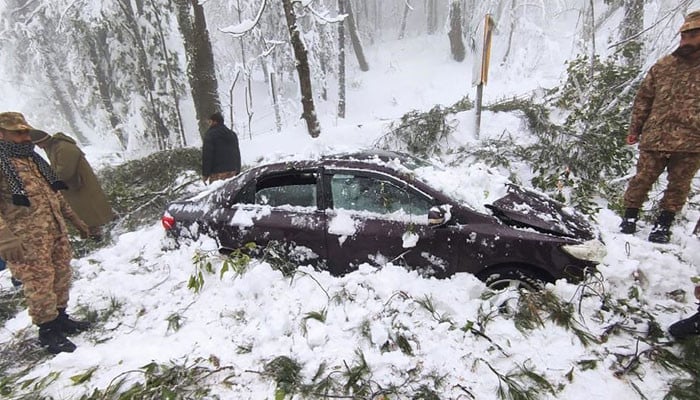 Canada Global (Web News) Travelers to Murree and the surrounding areas have been urged to exercise caution in order to minimise travel-related inconveniences and unfortunate occurrences.
Friday, Rawalpindi Commissioner Saqib Manan gave the necessary authorities the go-ahead to use all resources at their disposal to make the hill station and its surrounding areas more accessible to tourists.
He requested that officials arrange salt sprinkler machines, keep all snow removal equipment operating, and make sure that the necessary personnel were present.
A control centre had also been set up at Jinnah Hall Murree, according to the local administration's spokeswoman, on the commissioner's specific instructions.
The administration of the Rawalpindi division also advised tourists to contact the control room in case of an emergency, where representatives of all relevant departments will be on duty and available round-the-clock under the direction of Murree Assistant Commissioner.
According to Murree Additional Deputy Commissioner Ahmed Hassan Ranjha, the district government has set up special facilitation centres at 13 critical spots to help tourists and handle any emergencies.
In addition to establishing two health camps at Lower Toppa and Bansra Gali for the convenience of tourists, Tehsil Headquarters Hospital, CMH Murree, and basic health centres have also finalised plans for the snowy season, the ADC stated.
He threatened that "strict action would be taken against the violators."
The district administration and Rawalpindi's City Traffic Police (CTP) issued an advice urging residents to respect lane discipline due to the massive influx of tourists heading towards Murree.
Tourists are advised to utilise gasoline-powered automobiles and are strictly forbidden from using CNG-powered vehicles, which could damage cars due to the extreme cold in the snow. Asthma sufferers and families with young children are also warned against visiting the hill station.
The guests have been instructed to keep their gasoline tanks full, dress warmly, avoid needless travel after 8 o'clock, and more. The warning also urged people to switch on their emergency lights and other lights in their vehicles. They were also instructed to attach a metal chain to one tyre.
According to the CTP spokeswoman, additional special traffic wardens have been stationed at Murree's key locations to ensure efficient traffic flow.
The control room can be reached by tourists at the following numbers:
-051-9269015
-051-9269016
-051-9269018