Russia issues an order to evacuate its troops from Kherson, Ukraine
Canada Global (Web News) The only regional capital that President Vladimir Putin's soldiers have taken control of since the war started is the Ukrainian city of Kherson, from which Russia has ordered its men to leave.
The declaration came after weeks of Ukrainian advances on the city and hinted at the possibility of a major setback for Russia's military effort in Ukraine, which it invaded in late February.
General Sergei Surovikin declared on television that Kherson City could no longer be supplied.
Surovikin, who was seated at a lectern and pointing to troop placements on a map whose specifics were greyed out for the viewing audience, said, "Having thoroughly examined the existing situation, it is planned to take up defence along the left [eastern] bank of the Dnieper River."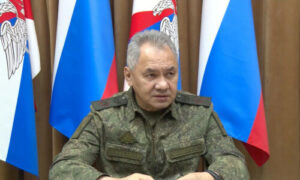 Sergei Shoigu, the Russian minister of defence, reiterated the remarks and stated, "I concur with your findings and recommendations. Continue the army withdrawal and make every effort to move the units across the river.
The declaration came hours after Kirill Stremousov, the Kherson deputy head who had been placed by Russia, was reportedly died in a car accident after pleading with locals to leave the area for weeks.