Pakistan's spirit of goodwill, mistakenly returned Indian soldiers who came to Pakistan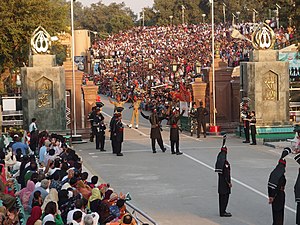 Canada Global (web news)
Indian Border Security Force
When the soldier entered Head Sulaimani area of ​​Pakistan, he was captured by Pakistan Rangers (Punjab).
Indian media claimed that the army personnel crossed the border into the Pakistani side after not being able to see the route properly due to fog.
After the incident Pakistan Rangers and BSF When the officers of the Army held a flag meeting, the Indian commander admitted that his soldier had entered Pakistan unknowingly.
Pakistani authorities handed over the BSF soldier to Indian authorities as a gesture of goodwill, but Pakistani authorities have not yet confirmed the incident.
This is the second incident in a week that an Indian soldier has mistakenly crossed the border and entered Pakistan's territory
Earlier, Pakistan had returned the Abhinandans that came under aggression and with bad intentions. The spirit of Pakistan is well-wished, but India is not stopping its atrocities in Occupied Kashmir. The international community must take notice in this matter.
[ad_2]