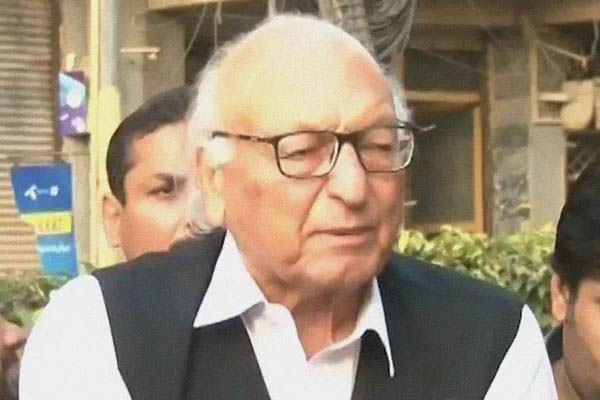 Canada Global (Web News) Latif Afridi, a former president of the Supreme Court Bar Association (SCBA), was shot dead inside the Peshawar High Court (PHC) on Monday in what authorities claimed was a case of family strife. was six times shot.
The senior lawyer was taken to the Lady Reading Hospital after the incident, where he was later pronounced dead. Latif was hit by six bullets, according to the hospital's administration.
Adnan Afridi, the attacker, was allegedly in police custody.
Abdul Sami Afridi's brother Adnan Afridi has been captured at the scene of the incident, SSP Operations Kashif Abbasi informed the reporters.
Authorities are investigating how, despite the presence of security, the shooter managed to enter the high court building.
Abbasi claimed that more investigation was being conducted, but that the death appeared to be the result of a blood feud between the two families.
The police official responded that they were checking into the high court's security measures and that if any flaws were discovered, appropriate action would be taken.
It should be remembered that Latif was recently exonerated in a murder case by Judge Aftab Afridi of the Swat Anti-Terrorism Court (ATC) and his three relatives.
He was detained together with nine other people in connection with the judge's murder.
According to information, Aftab Afridi was travelling with his wife, a 1-and-a-half-year-old grandson, and his daughter-in-law from Peshawar to Islamabad via Swabi in April 2021 when unknown gunmen assaulted his car near the Ambar Interchange.
Latif, who was the SCBA's president at the time, said that he and his son were not involved in the incident.
The judge's family, on the other hand, disputed the verdict and asked the high court for justice during a news conference, claiming they had proof of the lawyer's involvement in the murder.
SCBA made a statement condemning the horrific killing of Afridi and vowed to boycott judicial proceedings tomorrow (Tuesday). The association urged the government to take strong action to stop the killings of attorneys.