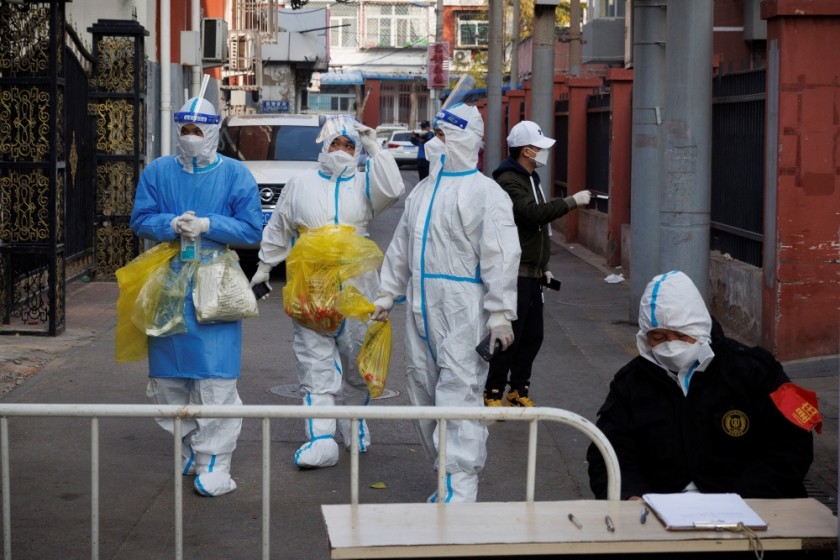 Canada Global (Web News) China announced a record-high number of COVID-19 infections on Thursday, and cities around the country have implemented localised lockdowns and other restrictions, which are ominous for the future of the second-largest economy in the world.
Investors' hopes that China will soon relax the strict zero-COVID policy that, along with a decline in the real estate market, is pounding the economy are being dashed by the spike in the number of infections, which is at record highs not seen since an epidemic in Shanghai earlier this year.
The limitations have also had an impact on the output at companies, notably the largest iPhone plant in the world, which has been shaken by violent conflicts between workers and security forces in a rare show of discontent.
Nomura analysts stated in a report that "we anticipate reopening is still likely to be a lengthy process with hefty expenses." The firm lowered its estimates for full-year growth from 2.9% to 2.8% and the GDP for the fourth quarter from 2.8% to 2.4% year over year.
The zero-COVID policy, which imposes some of the harshest restrictions in the world, has been upheld by the Chinese government, which justifies it by claiming that it is important to preserve lives and keep the medical system from being overburdened.
State media stated that the cabinet acknowledged the pressure on the economy and said China would employ timely reductions in bank cash reserves as well as other monetary policy measures to ensure there is ample liquidity.
China recorded 31,444 new local COVID cases on Wednesday, breaking the previous high of 13, April, when Shanghai was placed under a two-month lockdown.
On Thursday, China's equities dropped as worries about the record-high caseload eclipsed the positive effects of new economic stimulus.
Although official infection counts are low by global standards, China strives to break every chain of transmission, making it an exception globally under President Xi Jinping's trademark programme.
China has recently started to relax some restrictions on mass testing and quarantine, and it is attempting to avoid using blanket solutions like the lockdown that was placed on Shanghai's 25 million citizens.
Cities have started employing lockdowns more frequently, and often without warning. For instance, many citizens in Beijing claimed to have recently received letters from their housing complexes notifying them of three-day lockdowns.
More than one-fifth of China's entire GDP, or an amount greater than the size of the British economy, is reportedly under lockdown, according to Nomura analysts.
Full lockdowns a la Shanghai could be avoided, but as the number of COVID cases rises, more regular partial lockdowns may take their place in a growing number of cities, according to Nomura analysts. The bank also revised its 4.3% GDP growth prediction for the next year to 4.0%.
The city of Zhengzhou, where employees at the enormous Foxconn factory that produces iPhones for Apple protested, announced five days of mass testing in eight of its districts. This makes Zhengzhou the newest city to resume daily tests for its millions of people.