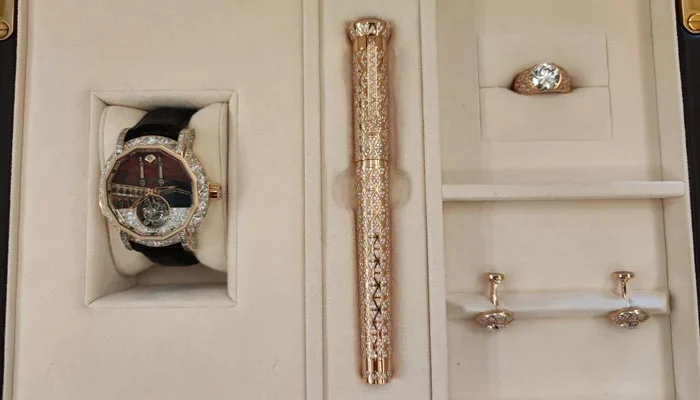 Canada Global (Web News) Umar Farooq Zahoor, a businessman based in Dubai, asserted on Tuesday that the PTI administration sold a pricey Graff wristwatch that Saudi Crown Prince Mohammed Bin Salman had given to the previous prime minister Imran Khan for $2 million, or about Rs280 million at the time of sale in 2019.
After the Election Commission of Pakistan disqualified the leader of the PTI for making "false statements and erroneous declarations," the Toshakhana controversy surrounding the sale of state goods that Imran Khan had received became a significant thorn in the side of national politics.
After months of avoiding the subject, Mr. Khan finally acknowledged in a letter response he had sold at least four gifts he had acquired while serving as prime minister on September 8.
Toshakahana gifts.
The gifts listed are a diamond MasterGraff Tourbillon Minute Repeater with Makkah map dial GM2751, diamond cufflinks with 2.12ct H IF and 2.11ct I IF round diamonds GR46899, a diamond gent's ring 7.20cts, a VVSl rose gold pen set with pave diamonds, and an enamel Makkah map.
According to reports, Mr. Zahoor is a well-known business figure who has been wanted since 2009 or 2010 in Pakistan, Turkey, Norway, and Switzerland for a variety of financial and other offences.
Mr. Zahoor stated in the interview that he met Farah Khan in Dubai and became immediately intrigued by the artefacts since they were "unique and precious."
When Mr. Zahoor first saw the watch, he was amazed since it was a "limited edition piece, very rare in the globe," he remembered. He claimed to have also had the watch appraised.
He claimed that during talks, "They [the PTI] wanted to sell the watch for $4 to $5 million, but I purchased it for $2 million," adding that Farah Khan insisted on cash payments.
"As soon as the payment was received, [she] called Shahzad Akbar to let him know the business was completed and to thank him for putting her in touch with me.